Frequently Asked Questions / Links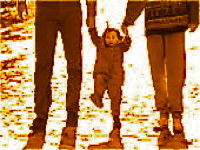 Choosing a therapist
It is good to interview at least three counseling professionals; most will give you a free half
hour of time for this purpose, when you can ask questions and get a feel for the chemistry
between the two of you.
Most have professional codes of ethics, whether or not they are licensed.
All credentialed counselors and therapists are required to give a written description of
their background to show their education and experience working with people.
Frequency & duration of sessions
Weekly sessions are traditional for a reason; when sessions are too spread out, it is difficult for either party to develop either
continuity in what's being said, or a feeling of mutual trust. Counseling usually goes anywhere from 3 months to two years,
and it's good to have a basic idea of what you want ahead of time.
What to expect
Therapists use a number of different techniques and differing approaches to think about people and situations. It is good to
discuss this with a counselor when you meet them; but it will become more clear after the first several sessions. A lot
depends upon the philosophy and style of the therapist; some let you do most of the talking; others engage in more
dialogue; and still others have a teaching approach. You must see what is most appealing and useful to you at the time.
Differing with a therapist
A little difference with the therapist can be part of the process. Even so, it is important you generally feel supported and
validated by the therapist and aim to be as authentic and genuine in counseling sessions as you would be in your daily life.
Most of the work in therapy is accomplished through the relationship with someone you trust outside of your personal situation.

Labels and use of prescribed psychotherapeutic drugs
Psychological labels (depression, paranoia, hysteria, etc.) and prescribed drug treatment are tools and can be used
or abused Labels are simply shorthand for complex responses to life situations, while prescribed drugs are often used
to support a person through a crisis time; some people, however, are prescribed meds to alter chemical imbalances.
The important considerations are whether labels create expectations that are self limiting, and whether drug treatment
interferes with, or supports, efforts at continuing awareness and involvement with life. return
Signs that I am done and ready to stop sessions
When a person feels more resolved with their initial concerns, or has reached a plateau in their therapy, sessions become
more conversational, even chit-chatty. This is one sign that you are done or can afford to take a break. It is important, as a
client, for you to be pro-active. When you are finished, say so.
Regular Meetings
It is important to trust the therapist you are seeing enough to make a commitment to attend the sessions. You will not
always leave feeling better, so deciding early whether you trust your counselor is important for that commitment. In the
first month or two, if you realize you don't feel comfortable for any reason during sessions, trust your instincts and let the
therapist know you won't be returning. Also read the Clients Rights brochure the state requires every counselor to give.
>> Clients' Rights brochure (info link)

Insurance
I encourage people not to use their insurance for reasons of privacy, and to realize if a company pays for your sessions,
the records are theirs. When I take insurance as an "out-of-network provider", you would ask whether your company
recognizes out-of-network; I then give a diagnosis and bill for services, collecting any co-pay the company requires.
Other Common Questions
>> Consumer Questions about Mental Health and Addiction Counseling
Some Links to Helpful Resources
Literature return


Personal Change:

Finding Each Other:

Family Connection:
Writing Down the Bones (picture link) On the Way to the Wedding (picture link) Peoplemaking (picture link)
Community Resources
Health Services: Naturopathic / Chiropractic
Gender Issues: Women / Men / Lesbian/Gay/Bi/Trans
Mental Illness: NAMI Self Help & Resource Guide
Cancer & the Family: Gilda's Club